2000 Watts from
2000 Miles Away
Just turn it on and operate from anywhere*
Fully integrates with FlexRadio's SmartLink remote
All controls and meters, available anywhere
Ethernet Connected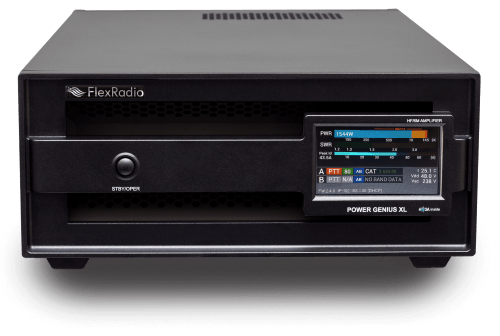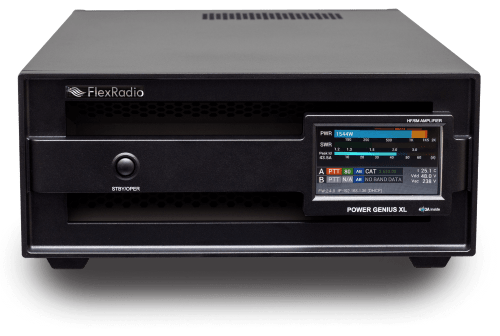 Frustration Free Contesting
Dramatically reduce cost and complexity
SO2R with one amp
Plug and Play SO2R
No complex cabling
Minimum 60dB port-to-port isolation
Compatible with Any Modern Transceiver
Plug & Play Power
Complete integration with FLEX-6000 Series
Amplifier/FLEX-6×00 Meter Integration
Automatic band switching
Full ICAS duty cycle on all modes including RTTY & FT8
Ultra Fast High SWR Protection
Compatible with any modern transceiver
4O3A Inside
 PA
160 – 6M Ham Bands
RF Power Output: 1500W (ICAS), 2000W Capable
Exciter Drive Level: 50W Typical (US version)
Transistors: MRF-1K50H x 2
Exciter Inputs**: SO-239 x 2
Antenna Outputs: SO-239 x 2
Antenna Impedance: 50 Ohm Unbalanced
Cooling: Thermally Controlled Fans
 Mechanical
Dimensions: 5.75"H x 14"W x 19.5"D (14.6 x 35.6 x 49.5 cm)
With Feet: 6.25"H x 14"W x 20"D (15.9 x 35.6 x 50.7 cm)
Weight: 37.4 lbs (17kg)
Operating Temp: -25ºC to +40ºC
 Electrical
Input Voltage***: 90 – 250VAC, 50/60 Hz
Power Supply: Modular Internal Switching
A/C Current: 15A @ 220V for Full Power.
 Connections
Power (See Electrical)
A and B Drive
A and B Output
A and B -60dBc Sample Port
A and B PTT In
A and B PTT Out
A and B CAT
A and B CI-V
A and B Band Data IN
LAN connection
Visit our Learning Center
Need help with our products, software or services? Start by visiting our learning center. Once there, you can download data sheets, quick start guides, installation manuals and watch video tutorials.
*SmartLink Remote Requires SmartSDR V2.x License. Requires internet connection. May be subject to country specific laws and regulations.
** SO2R Configuration *** Maximum RF power output achieved using 220 VAC