Promotions
Power Genius / Tuner Genius Bundle
Exciting news! $1599 Savings on a Power Genius / Tuner Genius Bundle*
For a limited time, from June 14 to June 30, 2023, we are thrilled to offer you an irresistible deal. When you purchase our top-notch Power Genius XL / Tuner Genius XL bundle, you'll have the choice of either receiving a free Maestro (a value of $1599) or enjoying a whopping $1599 off your product purchase.*
Please note that these offers cannot be combined, so select the one that suits you best!
If you opt for the Maestro, we want to ensure full transparency. As the Maestro is currently undergoing production, it will be delivered to you in the Fall, once it becomes available again. Rest assured, we will keep you updated throughout the process.
For those who already have a Maestro on order, this exclusive offer will have no impact on your previously placed order. Your place in line remains secure. We appreciate your ongoing support and can't wait to deliver this outstanding product to you.
Gift Certificate
Still looking for that Perfect Father's Day Gift?
We want to remind you that Father's Day is just around the corner, this Sunday, June 18th. Don't worry if you're still looking for that perfect gift to honor the OM (Old Man). We have an exceptional solution that he'll truly appreciate!
Why not surprise him with a FlexRadio gift certificate? This thoughtful gesture allows him to choose his favorite FlexRadio gear, ensuring he gets exactly what he desires. It's a Father's Day gift that he'll cherish for years to come.
Purchasing the gift certificate is quick and convenient. Simply visit this page to make your purchase.
And as a special bonus, we have an exciting offer for you! With every gift certificate purchase, we'll include a free hat, making the gift even more memorable.
---
Find Everywhere!
Planning a summer vacation? Don't worry about leaving your radio at home. With FlexRadio's SmartLink service and your PC, phone, or tablet, you can "find everywhere" and enjoy making QSOs from your cottage, tent, or even the beach. Embrace the flexibility and freedom to connect with fellow operators wherever your summer adventures take you.
To enhance your remote operating experience, make sure to add our convenient and hassle-free FlexRadio Approved Remote-On Plug-and-Play Kit to your home station. It's the perfect backup solution, ensuring that you can easily reboot your FlexRadio if the need arises.
Experience the joy of amateur radio without boundaries this summer. With FlexRadio and our cutting-edge technology, you can stay connected and make memorable QSOs no matter where you are.
Wishing you a fantastic summer vacation filled with memorable radio adventures!
---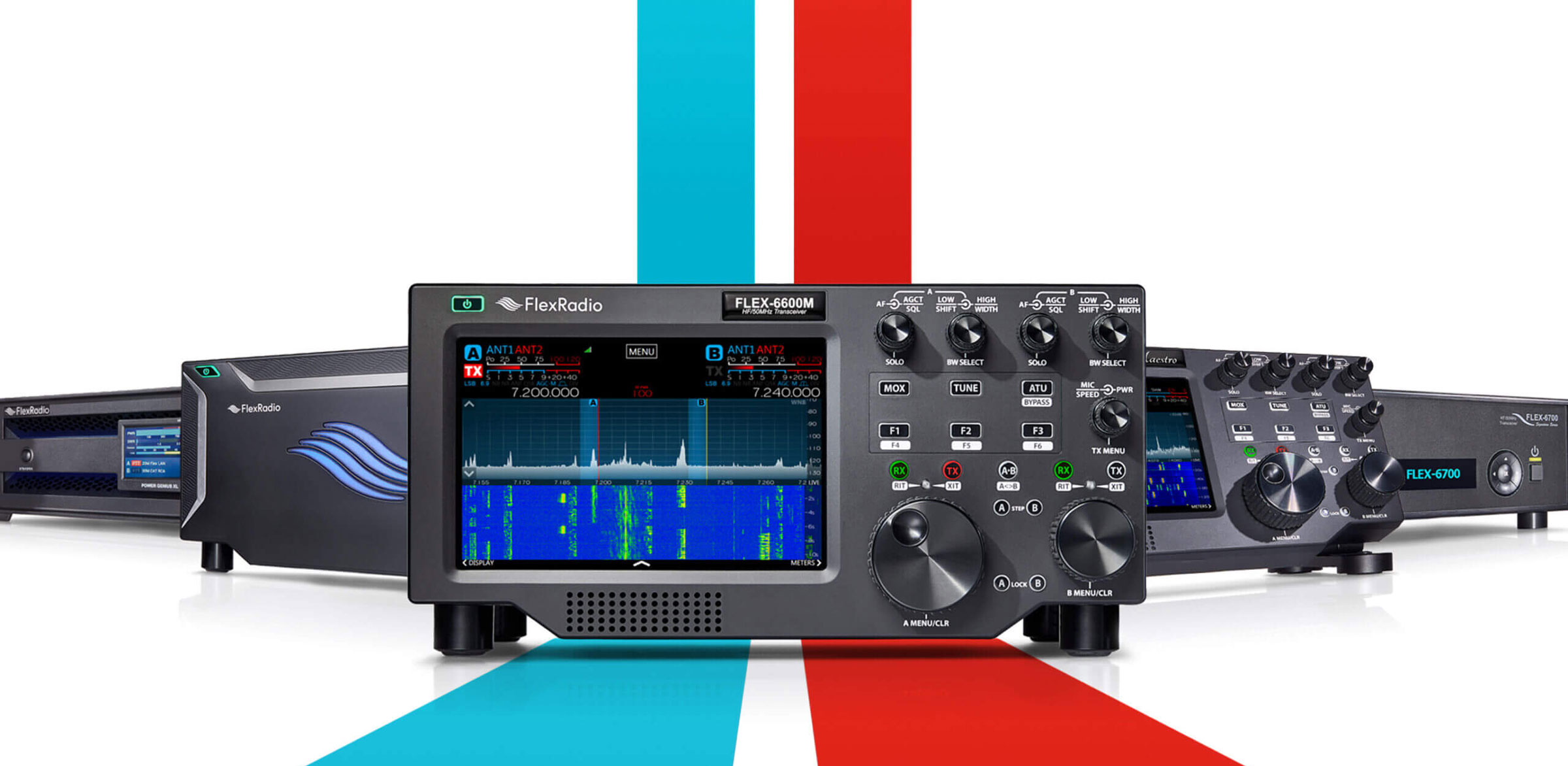 Product updates
FLEX-6400 / FLEX-6600
FLEX-6400 and FLEX-6600 production is back in full swing and we are working through our backlog as quickly as possible. If you have a question on the status of your order, please email us at orders@flexradio.com
FLEX-6400M / FLEX-6600M and Maestro
It is still anticipated that all three of these products will be back in production in the fall. If you have an order in place, we will contact you via email or phone once your order is close to shipping to confirm your order, delivery address, and payment. If you have a question on the status of your order, please email us at orders@flexradio.com
FLEX-6700
We are working to get the final build of the FLEX-6700 completed in the next two weeks. If you have an order in place we will be reaching out to you once we are ready to ship. If you have a question on the status of your order or wish to make a change, please email us at sales@flexradio.com.
SO2R Tuner Genius
We also have fantastic news regarding the TG XL SO2R Tuner. We are delighted to inform you that we have ample stock available today. When you place an order for the TGXL SO2R Tuner, we will promptly ship it out, ensuring it reaches your doorsteps in no time.
To learn more about these exceptional offers, or to seize this limited-time opportunity, please contact our dedicated team at hams@flexradio.com. Our friendly staff is ready to assist you with any inquiries or to guide you through the ordering process.
2×8 Antenna Genius
The 2×8 Antenna Genius is expected to be back in stock around mid July. So get your order in now to insure delivery in the July timeframe.
---
Education
FLEX-6400 vs FLEX-6600 Video
We invite you to watch an informative video by Mike VA3MW, where he explains the remarkable integration of our products. Simply click this link to view the video.
Club Presentations
Michael, VA3MW, is taking the FlexRadio experience to a whole new level! Through captivating remote presentations delivered in English, Michael is captivating clubs worldwide with his expertise and passion for our innovative FlexRadio products.
If you're eager to discover more about the FlexRadio product range or looking to embark on the exciting journey of building a FlexRadio remote HF station, we have fantastic news for you. Michael is ready to deliver engaging presentations tailored to your club's needs.
Whether you desire a comprehensive overview of FlexRadio products or seek guidance on getting started with a remote HF station setup, Michael's expertise is at your disposal. Reach out to us today at info@flexradio.com, and our dedicated team will promptly respond, ensuring you have all the necessary details to make your club's event a resounding success.
Don't miss the opportunity to benefit from Michael's vast knowledge and captivating presentation style. It's the perfect way to enhance your understanding of FlexRadio and take your club's engagement to new heights.
Thank you for being part of the FlexRadio community. We look forward to connecting with you soon!
---
Trade ins / Trade ups
Trade in your Radio or Amplifier
FlexRadio is thrilled to introduce the FlexRadio Trade-In program, designed to enhance your ham radio experience. Whether you wish to trade in your older ham radio gear or upgrade your current FlexRadio equipment, this program offers an exciting opportunity to exchange your devices for the latest and most innovative solutions from FlexRadio, including HF Radios and Amplifiers.
Key Features of the FlexRadio Trade-In Program:
Stay Up-to-Date: Keep pace with the rapidly evolving world of amateur radio by trading in your outdated equipment. Upgrade to the latest and greatest offerings from FlexRadio, ensuring you have access to cutting-edge technology and enhanced performance.
Seamless Trade-In Process: The FlexRadio Trade-In program provides a streamlined and user-friendly process. Our knowledgeable team will guide you through the steps, ensuring a hassle-free trade-in experience.
Exclusive Benefits: By participating in the trade-in program, you'll enjoy exclusive benefits such as special offers, discounts, and personalized assistance. Discover a world of possibilities with FlexRadio's state-of-the-art solutions.
To learn more about the FlexRadio Trade-In program and explore the options available to you, please visit our dedicated Trade-In program page on our website. Our team is also available to answer any questions you may have and discuss your specific requirements.
Please note that the FlexRadio Trade-In program is currently available for customers located in the United States only.
Upgrade your ham radio gear today and unlock the potential of the latest FlexRadio solutions. Join the FlexRadio Trade-In program and elevate your amateur radio experience to new heights.
For more information, visit our Trade-In program page on our website or contact us here.
---
2023 Events
Calendar of Events
Get ready for the highly anticipated World Radiosport Team Championship, taking place in Italy on July 8-9th. This prestigious event is often referred to as the "Olympics of Ham Radio" and promises an exhilarating showcase of skill, strategy, and camaraderie among amateur radio enthusiasts.
We are proud to announce that FlexRadio is a proud sponsor of this extraordinary event. As a leading provider of cutting-edge radio technology, we are dedicated to supporting the growth and excitement within the amateur radio community.
Huntsville, AL
August 19-20
September 16, 2023
Chicago, IL
---
Bread Financing
Introducing Hassle-Free Financing for Your Radio Equipment Needs with FlexRadio and Bread Finance
Looking to upgrade your radio equipment and seeking a convenient financing solution? Look no further! FlexRadio has joined forces with Bread Finance to offer you a seamless financing experience. Now, when purchasing your desired radio, amplifier, tuner, or any other equipment from FlexRadio, you have the option to select Bread Finance during the checkout process.
Easy Financing: Say goodbye to complicated financing procedures. With Bread Finance, the process is straightforward, ensuring a hassle-free experience from start to finish.
Flexible Options: Tailor the financing terms to suit your needs. Bread Finance offers flexible payment plans, allowing you to select the terms that align with your budget and preferences.
Transparent and Clear: No hidden surprises or ambiguous terms. Bread Finance ensures complete transparency, providing you with a clear understanding of the financing terms, including interest rates and repayment schedules.
Unlock the Power of FlexRadio Equipment with Bread Finance.
Experience the latest advancements in radio technology without worrying about upfront costs. With FlexRadio and Bread Finance, your dreams of owning high-quality radio equipment are within reach. Simply select Bread Finance during your checkout process, and embark on your radio journey without delay.
Don't miss out on this incredible opportunity! Upgrade your radio equipment today with the convenience and flexibility of Bread Finance, available exclusively through FlexRadio.
Bread Financing pre-authorizations are valid for 30 days from the date of your order. If your product is shipping beyond the 30 day window, you may be required to resubmit your information.
---
Contact us
If you need to reach out to us, you can find us at:
www.flexradio.com
hams@flexradio.com
512-535-4713 Option 1
73 es gud dx!
---