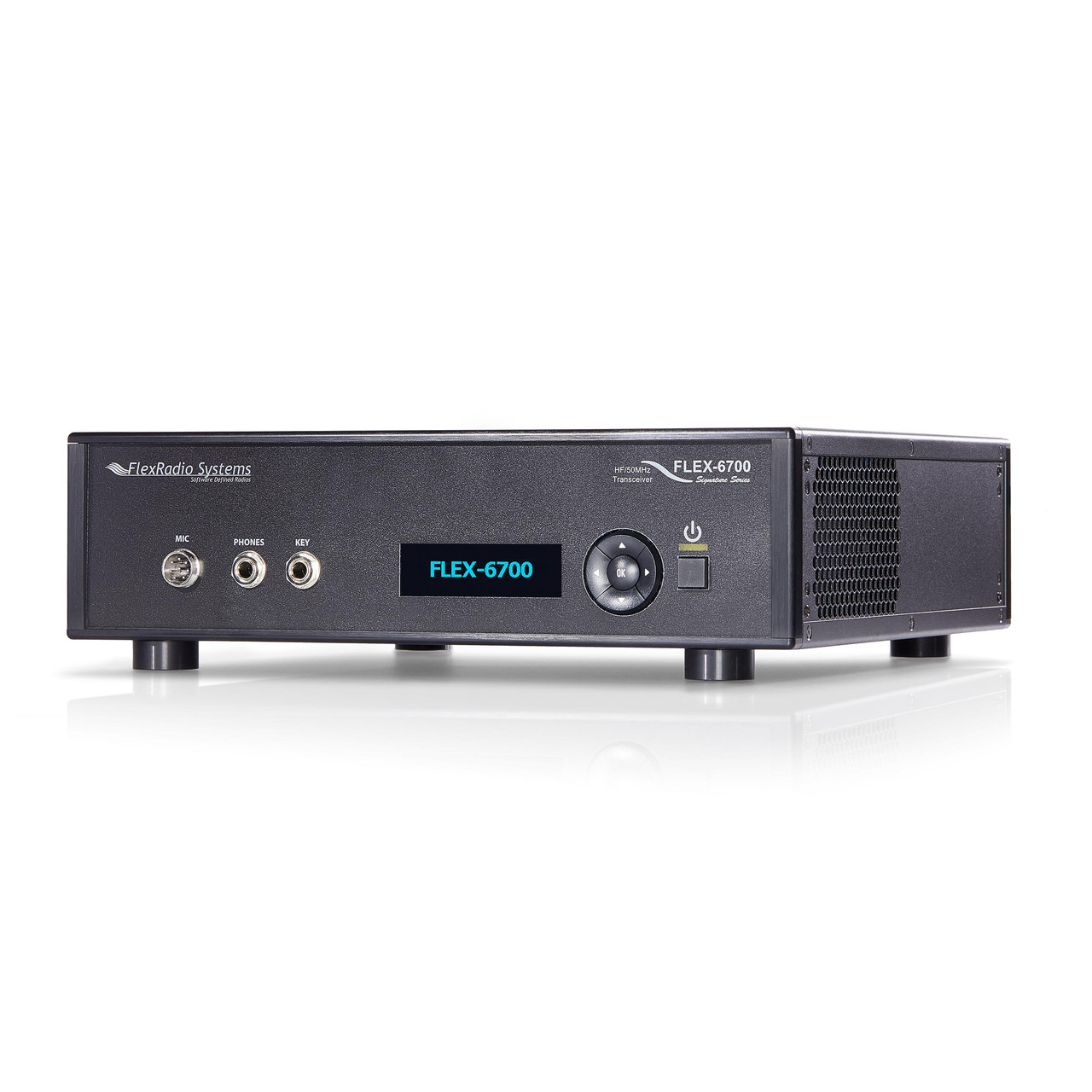 Certified Pre-Loved FLEX-6700 comes with a 1 year warranty and most recent version of software. The unit has been tested and recalibrated to be prepared for resale.
Order Payment Information:
FlexRadio Systems does not charge your credit card until your order ships, but we do pre-authorize the the full purchase price at the time you place your on-line order. If you choose to use PayPal as your payment method, your account will be charged immediately.
Due to the price class of a FLEX-6000, your order may exceed your credit card's daily transaction limit resulting in your order not being completed. In these cases, you may either contact your credit card company and negotiate a different daily purchase limit -OR- you can call FlexRadio Systems Sales department at 512-535-4713 ext 1 to place your order over the phone where we will not pre-authorize order payment until time of shipment.
The FLEX-6700™ Signature Series transceiver is based on a new hardware architecture and SmartSDR™ software platform. This hardware uses Digital Down Conversion (DDC) to convert from RF to digital and Digital Up Conversion (DUC) to convert from Digital to RF. The FLEX-6700 uses two Spectral Capture Units™ (SCU) for the RF to digital conversion and an ultra high performance on-board signal processing and control system to perform demodulation and modulation, filtering, and audio stream management. The result is incredible receiver dynamic range and received signal clarity.
The FLEX-6700 model transceiver utilizes two SCUs for reception from 0.70 to 77 MHz plus 135 to 165 MHz and the ability to create up to 8 full featured independent SLICE RECEIVERS. Optimized preselector filters can be selected for the ham bands for greater out of band rejection.
SmartSDR is the "ecosystem" of the radio platform. It organizes all the signal processing power in the radios into an advanced radio fabric. SmartSDR understands the capabilities of each SCU and how to harness its power. It also comprises of the "presentation layer" or GUI client that the user interacts with. The FLEX-6700 utilizes an Ethernet connection for high-speed "driverless" access to the graphical user interface (GUI).
The FLEX-6700 provides continuous duty 100W output across the entire 160-6m band. The FLEX-6700 also includes an automatic antenna tuner (ATU) capable of tuning antennas over 10:1 range (3:1 on 160m and 6m).
For more technical information on the FLEX-6000seriesof software defined radios, just download the FLEX-6000 Product Brochure.