Throughout the year we will be highlighting partners, customers, stations, and more as we review our history and our contributions to the development of modern-day ham radio.
Watch what 20 years of Innovation looks like.
---
Hamvention and Sea-PAC Specials
Dayton Hamvention may be over but you can still take advantage of those show specials through this weekend at the Sea-Pac Ham Convention in Seaside, OR or on-line.
hams@flexradio.com
512-535-4713 option 1
| | | | |
| --- | --- | --- | --- |
| Item | List Price | Discount | Show Pricing |
| Maestro (waitlist) | $1599 | $300 | $1299 |
| FLEX-6400 | $2299 | Free FlexControl | $2299 |
| FLEX-6400M (waitlist) | $3499 | Free FlexControl | $3499 |
| FLEX-6600 | $4599 | $200 | $4399 |
| FLEX-6600M (waitlist) | $5699 | $250 | $5449 |
| Power Genius XL | $7699 | $700 | $6999 |
| Extended Warranty | | | 30% Off |
Offers expire on June 5th, 2023.
Free ground shipping for USA continental customers.
Waitlisted items can be canceled at any time. Payment is due at the time of shipment.
---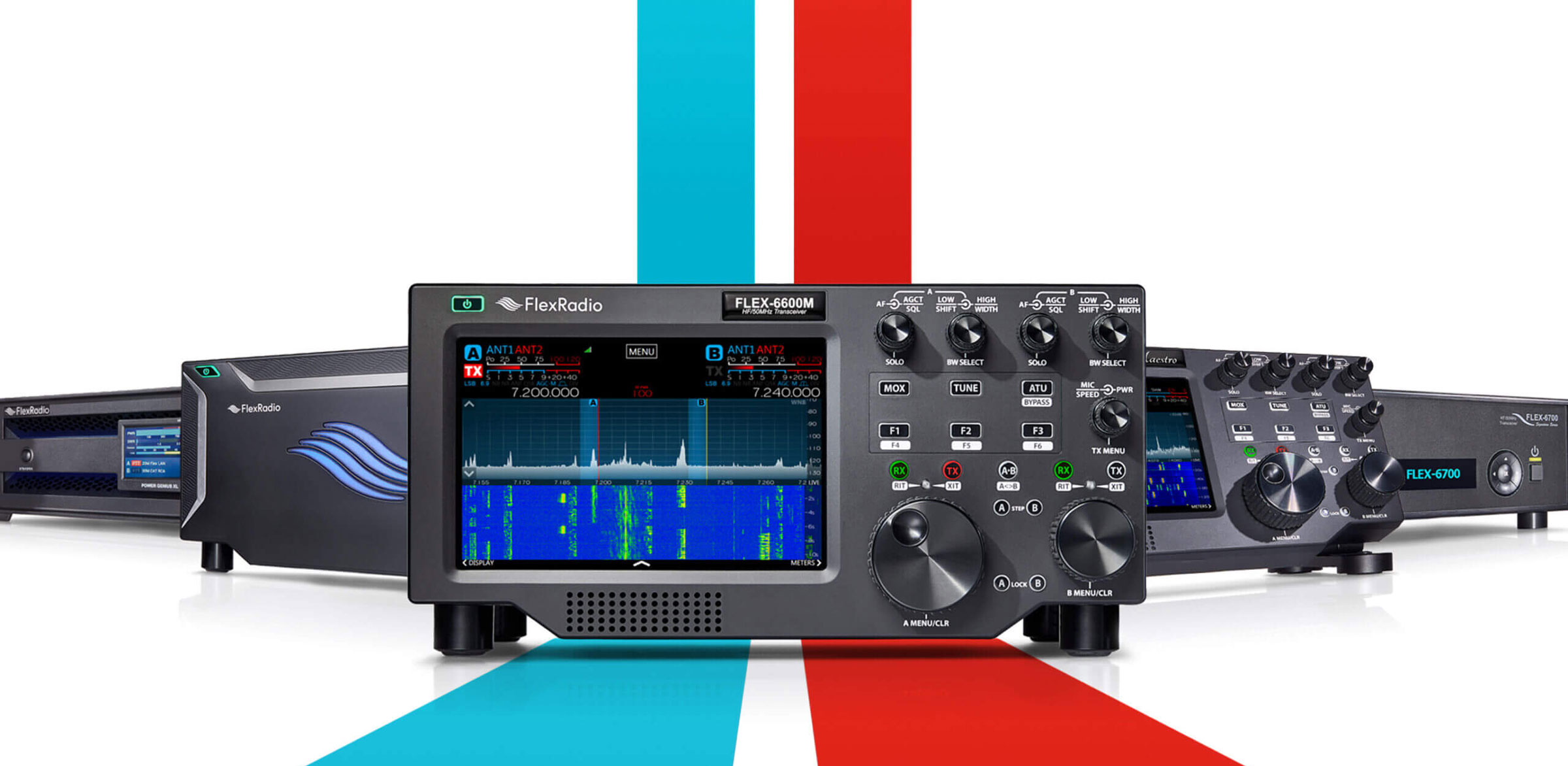 Product updates
Radio Production Update
Our dedicated manufacturing team has been working tirelessly, putting in long hours to expedite the process. We anticipate catching up on the backlog within approximately 4 weeks from now (1st week of July).
For new orders placed starting this week, we estimate shipping to commence during the first week of July for the FLEX-6400 and FLEX-6600 models. Rest assured, we are committed to ensuring prompt and efficient delivery of your chosen radio equipment

Power Genius XL
Excitingly, we currently have Power Genius XL units in stock and ready for immediate shipment. As an added bonus, shipping is free for our customers located within the Continental US. If you are outside of the US, we offer attractive shipping options to cater to your needs, but please work with your local Country dealer if you have one.
Antenna Genius
Additionally, we are pleased to inform you that the highly sought-after 1 x 8 Antenna Genius is currently available in our inventory.
This exceptional accessory serves as a fantastic addition to the FLEX-6300, FLEX-6400(M), FLEX-6500, and most OEM HF Radios.
Tuner Genius XL
Furthermore, our Tuner Genius XL, our most popular item, is readily available. The SO2R model will be made available next week (during the second week of June), specifically designed to complement the FLEX-6600(M) or the FLEX-6700.
For those utilizing single SCU radios such as the FLEX-6300, FLEX-6400(M), or the FLEX-6500, we anticipate the availability of the 1 x 3 model in approximately an additional week.
We appreciate your patience and continued support as we work diligently to fulfill your radio orders. We strive to provide you with top-notch products that enhance your amateur radio experience.
Should you have any inquiries or require further assistance, please do not hesitate to contact our dedicated customer service team. We are here to ensure a seamless and enjoyable experience throughout your journey with us.
---
FlexRadio 2003 Award Winners
FlexRadio congratulates our 2023 award winners. These awards are bestowed each year during our customer banquet held at the Dayton Hamvention in May.
Top SmartSDR Alpha Tester: Al Groff K0VM
API Developer Award: Yuri Pavlov UT4LW
Pinnacle Award: David Fisher NX6D
Pinnacle Award: Remote Ham Radio (RHR)
Top Elmer: Michael Walker VA3MW
Top Elmer: David DeCoons WO2X
Details can be found in the FlexRadio Community here.
---
FlexRadio Announces End of Manufacturing for FLEX-6700
After a successful ten-year run, FlexRadio has made the difficult decision to discontinue the manufacturing of the FLEX-6700 transceiver, effective 6/1/2023. This decision is a result of ongoing challenges with component shortages and the unavailability of end-of-life parts, which have impacted our ability to ensure reliable product deliveries.
While production of the FLEX-6700 will cease, FlexRadio remains committed to supporting our valued customers. We will continue to provide comprehensive support, servicing, and warranty coverage for all products sold from our existing backlog. Rest assured, we will honor our commitment to deliver exceptional service to our FLEX-6700 customers.
Furthermore, we understand the importance of software updates and their impact on the overall performance of your radio. We are dedicated to maintaining the SmartSDR release cycle, ensuring that regular software updates will continue to be provided for the FLEX-6700. These updates will keep your transceiver up to date with the latest advancements and improvements.
FlexRadio would like to express our sincere gratitude to the loyal FLEX-6700 users who have supported us throughout the years. Your trust and confidence in our products have been invaluable. We remain committed to providing innovative and reliable radio solutions to the amateur radio community.
If you currently have a FLEX-6700 on backorder you can either choose to remain on the waitlist for the final build to complete or you can switch your radio selection to a more recent model, such as the FLEX-6600. For any questions or concerns regarding the discontinuation of the FLEX-6700 or to access our support services, please contact our dedicated team at hams@flexradio.com.
---
Maestro Update
During the Dayton Hamvention, CTO Steve Hicks, N5AC presented some of the new features coming up in our latest version of the Maestro.
8" Display size, capabilities
Increased WiFi Capability
Improved WiFi radio + antenna (MIMO)
WiFi 6 compatible
Improved CW sidetone
New rechargeable battery option – easily obtained worldwide
New power indication/switch matches M-Series Radios
New pseudo-differential MIC connection
External Display Output
Serial USB pass-thru for RS232 devices such as Rotators
New optimized hardware connections
The front of the Maestro will retain is current, well-optimized layout. We have redesigned the available external connections to those you see below. The view is of the back left corner.
The +24VDC power supply is to power the Maestro hardware and also be able to charge batteries.
In addition, as we get closer to production we find that increased costs will require us to raise the price of the Maestro product. No exact date is available just yet for delivery, but once we can narrow it down, we will pass it on to you via the FlexInsider. Thanks again for your patience.
For those customers who have a Maestro order in place or those who place an order (no money down) by June 5th, the current price of $1299, not including the optional battery, will be honored. You can cancel your order at any time.
For orders after June 5th, the newly announced price of $1599 will be in place.
| | | |
| --- | --- | --- |
| | Before June 5th | After June 5h |
| Maestro | $1299 | $1599 |
| Battery (99Wh) | $215 | $215 |
| Single Rapid Charger (60W) | $160 | $160 |
| Dual Rapid Charger (2x30W) | $260 | $260 |
---
Pre-loved radios
FlexRadio also offers Certified Pre-loved Equipment as an option for those interested in saving or with a specific model in mind. All of our Pre-loved products have been completely QA'ed, tested, and calibrated before being offered, and each is covered by a product-specific warranty.
You can find our currently available and ready-to-be-loved again products here.
Have questions about our Certified Pre-loved Equipment or need assistance with an order? Please give Andy at 512-535-4713 – option 1 or email us at sales@flex-radio.com.
---
Trade ins / Trade ups
Trade in your Radio or Amplifier
FlexRadio is thrilled to introduce the FlexRadio Trade-In program, designed to enhance your ham radio experience. Whether you wish to trade in your older ham radio gear or upgrade your current FlexRadio equipment, this program offers an exciting opportunity to exchange your devices for the latest and most innovative solutions from FlexRadio, including HF Radios and Amplifiers.
Key Features of the FlexRadio Trade-In Program:
Stay Up-to-Date: Keep pace with the rapidly evolving world of amateur radio by trading in your outdated equipment. Upgrade to the latest and greatest offerings from FlexRadio, ensuring you have access to cutting-edge technology and enhanced performance.
Seamless Trade-In Process: The FlexRadio Trade-In program provides a streamlined and user-friendly process. Our knowledgeable team will guide you through the steps, ensuring a hassle-free trade-in experience.
Exclusive Benefits: By participating in the trade-in program, you'll enjoy exclusive benefits such as special offers, discounts, and personalized assistance. Discover a world of possibilities with FlexRadio's state-of-the-art solutions.
To learn more about the FlexRadio Trade-In program and explore the options available to you, please visit our dedicated Trade-In program page on our website. Our team is also available to answer any questions you may have and discuss your specific requirements.
Please note that the FlexRadio Trade-In program is currently available for customers located in the United States only.
Upgrade your ham radio gear today and unlock the potential of the latest FlexRadio solutions. Join the FlexRadio Trade-In program and elevate your amateur radio experience to new heights.
For more information, visit our Trade-In program page on our website or contact us here.
---
2023 Events
Calendar of Events
Seaside OR
June 2-4
Huntsville, AL
August 19-20
---
Education
Club Presentations
Michael, VA3MW, is taking the FlexRadio experience to a whole new level! Through captivating remote presentations delivered in English, Michael is captivating clubs worldwide with his expertise and passion for our innovative FlexRadio products.
If you're eager to discover more about the FlexRadio product range or looking to embark on the exciting journey of building a FlexRadio remote HF station, we have fantastic news for you. Michael is ready to deliver engaging presentations tailored to your club's needs.
Whether you desire a comprehensive overview of FlexRadio products or seek guidance on getting started with a remote HF station setup, Michael's expertise is at your disposal. Reach out to us today at info@flexradio.com, and our dedicated team will promptly respond, ensuring you have all the necessary details to make your club's event a resounding success.
Don't miss the opportunity to benefit from Michael's vast knowledge and captivating presentation style. It's the perfect way to enhance your understanding of FlexRadio and take your club's engagement to new heights.
Thank you for being part of the FlexRadio community. We look forward to connecting with you soon!
---
Bread Financing
Introducing Hassle-Free Financing for Your Radio Equipment Needs with FlexRadio and Bread Finance
Looking to upgrade your radio equipment and seeking a convenient financing solution? Look no further! FlexRadio has joined forces with Bread Finance to offer you a seamless financing experience. Now, when purchasing your desired radio, amplifier, tuner, or any other equipment from FlexRadio, you have the option to select Bread Finance during the checkout process.
Easy Financing: Say goodbye to complicated financing procedures. With Bread Finance, the process is straightforward, ensuring a hassle-free experience from start to finish.
Flexible Options: Tailor the financing terms to suit your needs. Bread Finance offers flexible payment plans, allowing you to select the terms that align with your budget and preferences.
Transparent and Clear: No hidden surprises or ambiguous terms. Bread Finance ensures complete transparency, providing you with a clear understanding of the financing terms, including interest rates and repayment schedules.
Unlock the Power of FlexRadio Equipment with Bread Finance.
Experience the latest advancements in radio technology without worrying about upfront costs. With FlexRadio and Bread Finance, your dreams of owning high-quality radio equipment are within reach. Simply select Bread Finance during your checkout process, and embark on your radio journey without delay.
Don't miss out on this incredible opportunity! Upgrade your radio equipment today with the convenience and flexibility of Bread Finance, available exclusively through FlexRadio.
Bread Financing pre-authorizations are valid for 30 days from the date of your order. If your product is shipping beyond the 30 day window, you may be required to resubmit your information.
---
---