The DXpedition is headed to a small island 1500 miles off the coast of Tahiti… which itself is a small island in the middle of nowhere; a little South Pacific Volcanic outcropping famed by the historical event the Mutiny on the Bounty.
Pitcairn Island is a remote destination as beautiful as it is difficult to get to. Fourteen operators will travel the some 8,000 miles and over 50 hours by plane, ship and longboat to operate 24 hours a day in teams of 3-4 for two weeks. What an adventure.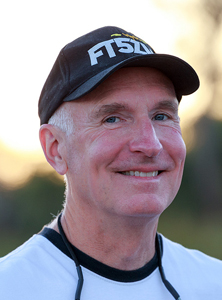 We recently had an opportunity to get an insider's perspective into what this sort of thing is truly like. We spoke with Craig Thompson, K9CT, one of the operators going on this major trek who has been integral in the planning, logistics and finances for this, and many other DXpeditions.
Craig is a big name in amatuer radio because he consistently takes the hobby to new levels. He's also a big fan of FlexRadio Systems. FlexRadio contributed nine FLEX-6700 series radios and nine Maestros with supporting equipment and is the main sponsor behind the Pitcairn DXpedition, so we thought it fitting. Now here's Craig.
---
Q: Talk a little bit about Pitcairn and how the DXpedition will go down.
CT: Pitcairn is famous for the Mutiny on the Bounty. It's where the mutiny people hid and survived for years. It was an English Island then. But funny story, the French originally claimed it and owned it but they wrote down the wrong latitude and longitude. So England claimed it and nobody figured it out until years later.
It's not your usual destination. We've been told that there's mud, and we've all packed boots. We leave Saturday and end up in Tahiti on Sunday. Then travel to Mangareva. Then get on the ship Braveheart and travel 30 hours to get to Pitcairn. Hop on longboats and go ashore. And we'll actually be operating from Fletcher Christian's decedent's house. If you don't know who he is, he's the guy that led the mutiny. There will be two sites set up on the island: a phone site and a CW site. Each site is physically isolated. So getting between them is never easy.
There's a small community living on the island now, about 35-40 locals. We'll pay the people for room and board. All the food has to be brought in for us but they will take us in and take care of us.
Q: What are the "firsts" in HAM radio history happening on this trip?
CT: There will be a couple "firsts" in amatuer radio history that we're excited about. We're going to operate on 60m and Moonbounce on 6m for the first time ever on Pitcairn. We're going to be able to reach everyone across the globe since we're near the bottom of the solar cycle. North America, Japan and Australia on high bands. Europe will be 20m and lower most likely. We'll talk to everyone between 20-160m.
Q:Who can readers expect to connect with during this event?
CT: We're such a diverse group, that's part of what's so fun. We have several doctors on the trip. One operator was a professional trombone player and played in the military for a career. One guy is a great photographer. He's going to really make good use of his time on the island. We've all put a ton of time and research into understanding the island's history and the gravity of it. I think studying these things makes us better.
I'm also excited to have two new guys on the trip that we will get to mentor and to see them have this experience for the first time. We do this because it's fun. We get such a thrill out of people calling us. I always compare this to the olympics in the world of amateur radio. Everyone pays attention for two weeks and we entertain the amatuer radio world for two weeks. It's fun to be the show. We're also doing this during the most popular radio contest in the world, CQ World Wide. We're going to operate in the contest. Which just makes the trip even more exciting for everyone, because every one of us is a contestor.
It's a pretty fun group. A lot of us had gotten together to pack the containers and a lot of the prep work. Every bit of this is fun and we enjoy doing it together. Assembling a team that gets along really well is important because it's a lot of work and when you get exhausted we generally aren't our best selves. You definitely have to maintain some semblance of yourself. And this is really a tried and proven group of people.
Q: What do you anticipate being the best part of the experience?
CT: The ham radio experience. I think we're going to be so happy with our experts worldwide, because everyone loves to work rate and I think we'll all get a high with that experience.
Also to experience the island and meeting the people you hear about and read about. Seeing the actual burned out shell of the bounty, being immersed in this history. And to be part of that social environment for two weeks. We are all going to tread lightly, be friendly and diplomatic and try to just be part of their community as much as possible. We don't want to cause any ripples or riffs, so we'll be very cautious about how we intermingle. There's a lot of history and it's going to be fun to be part of that.
Q: What do you anticipate being the hardest part of the experience?
CT: Setting up. The set up of the operation is when it's the hardest. It's just a matter of perseverance. When you're really tired and it's your shift at 4 in the morning, that's really tough duty. It's always exciting and fun at first, then you start to wear down and it becomes somewhat grueling into the later parts. But there's always something that will happen that will make it a lot of fun. There's always stories to tell. There's always a story and you never know what it will be.
That reminds me of the time I was on Navassa Island and it was 4 in the morning. No one would come back to me. Here I am one of the rarest entities in the world, I think it was number one at the time, and no one would come back to me. Finally, there was a guy in Minnesota, but I could tell he had no idea how rare a contact he just made. We just chit chatted for awhile and he was telling me how cold it was there, and here I was on an island where it's 80 degrees. He definitely had no idea how rare it was. I told him, "If you keep a log, make sure you write this one down."
Q: How has the event evolved over time?
CT: The event has gone very well over time. Ralph had this idea in particular, mainly because of the Braveheart. They suggested we go to Pitcairn, so we thought hey this would be great. So he asked the usual suspects, people like me, and of course I said sure! We create a group online and we communicate as a team and start throwing around ideas. We meet at conventions here and there. There's always someone willing to go to some place like this. We're always looking in top ten places and it takes awhile to get permissions, so plans are already in the works for the next one.
Q: How can a person get involved in future events?
CT:The best way is to make yourself known to people that you're interested. Reach out to people who are involved. It really helps if you're an active contestor, and if you're good, we know you have skills. You also have to work well within a team, so letting people know you're a good team player is pretty important as well. References always help too!
But remember, these trips are also big commitments. Often times we are gone 6-7 weeks from home. So it's a huge time commitment to make it happen. It's also very expensive. It can be up to $20,000 a piece for a trip like this. Start with some smaller trips and make sure you like it and are willing to do more. You can make connections there as well, with a lot of the same people going on this trip.
The best way is to make yourself known to people that you're interested. Reach out to people who are involved. It really helps if you're an active contestor, and if you're good, we know you have skills.
Q: What are the biggest takeaways from accomplishing something like this?
CT: A great deal of satisfaction that we all get from helping the ham community. Everybody wants to do it, they live for our stories. Every time we sit down with our friends, they want to hear about these trips. We make so many memories and experience so many amazing things. How much we're helping others by doing this. It really adds a lot of vitality to our hobby. It's a great adventure for the good of everybody.
Q: Is there a message you want to deliver to our readers about the event?
CT: We can't do these things without sponsors. This is the first time that a DXpedition has been undertaken with full support of FlexRadio. Without the donations, the foundations, the funding and the fans of amateur nation we couldn't have done it.
Q: Tell me a bit about what the FLEX-6700 and Maestros will bring to the table?
CT: It offers us a simple set up. It's simple to use in all the modes. The receivers are excellent and transmitters are excellent. Very few cables needed to operate in all modes. Quite unlike any other radio in that regard. When you're doing a multi radio operation like this, all these radios are opening next to each other and these radios have to operate without interrupting each other. These radios are in the top tier of operation like this. And they're in the top tier of radios. They have the best visual experience in HAM radio. When you are looking at the band on the Maestro, you'll see stations calling you up and and you'll see people and you can just tap on their name, talk to them and then jump back into the big pile up. You can see weak signals that are not yet copyable. Then when they pop out of the noise you can tap them and talk to them and then they'll go back into the noise. Lots of people think Flex Radios are intimidating, but it's quite the opposite, they're the simplest and easiest to use. They're pretty slick.
Q : Is there anything people should know about radioing in?
CT: Check clublog. We'll be on clublog and check contacts to make sure you're in the log. It's amazing how many times we get a QSL for a confirmation and they aren't in the log. Also check out the propagation tool from K6TU.
And always remember, you have to be on the air listening, you never know if the band will be open that day.